Kodia Company Limited, a professional exporter in China, is mainly engaged in the production and exporting Complex cyanide, Sulfite(metabisulfite), Agrochemical products, Food additives and so on. Sodium ferrocyanide; Potassium ferrocyanide; Potassium ferricyanide; Potassium metabisulfite and Potassium thiosulfate, being at competitive prices and in high quality with our best service, have made us one of the famous fine chemicals exporters in China.

Welcome to get contact with us if you have any interests.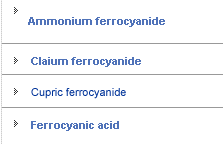 We can offer more informations of our products to our customers for giving them helps to their transportation, storage, inspection, production and logistic track, etc. You just need to send an email to us; we will be able to provide you with MSDS, Quality Standards, inspection reports and up-to-date technological informations of main products.